Do you know all the retrofit solutions that are available for your soft-story building? The most common solution is to install special moment frames to bolster the existing structure. We've written this article to help you understand the nuts & bolts of the two most popular special moment frame (SMF) manufacturers; Simpson Strong Frame versus MiTek Hardy Frame. Soft story retrofitting is about to become a major topic of discussion among property owners in Los Angeles County. There are over 13,000 buildings affected in the City of Los Angeles alone and another 1500 in Santa Monica. Property owners are trying to mitigate soft-story retrofit costs by scrutinizing every penny down to the nuts and bolts (pun intended). This article is not about how much a retrofit project might cost, but you can learn more about cost by clicking here.
(Simpson Strong Frame SMF installed in San Bruno, image courtesy of Intero Real Estate)
Simpson Strong Frame
Designed for soft story retrofit utilizing the propriety Yield Link, or "structural fuse"

Bolted system that ships flat.

Heavily tested. Simpson provides supporting engineering details and notations.

Supported by an integrated system of hardware, screws, connectors.

No welding required.
(MiTek Hardy Frame SMF installation, image courtesy of Contractor Supply Magazine)
Mi Tek Moment Frames Benefit
Specially designed for Soft story retrofits, utilizing the "Side-Plate System." AISC 358 Prequalified Moment Connection Standard.

Custom Moment Frame Designs available for residential, commercial and industrial use. Meeting 3rd party agency evaluation for alternative materials is not required.

Lateral Bracing of the beam is not required.

Standardized sizes that are pre-engineered for easy specification by designer.

System is approved by AISC's "Connection Approval Review."

Field welding may be required but not necessary.
How Are They Similar?
Both Simpson Strong-Tie and MiTek Systems manufacture Special Moment Frames (SMFs). They are very similar products in both looks and installation, but beyond that they share other similarities.
Both are designed for Soft Story Retrofitting and provide a low-cost alternative to traditional field-welded moment frames.

They are both pre-engineered and provide supporting details and notations to be used as part of the engineering plans.

They eliminate the need for lateral bracing.

Proved Quality control in the connections that cannot be replicated in the field.

The cost of Simpson and MiTek frames are comparable.

The installation is very similar with both systems.

Both systems are manufactured in California.
How Are They Different?
Just because SMF's look the same, it doesn't mean that they are identical. The Simpson Strong Frame and MiTek Hardy Frame are two different systems. Here are their differences.
The connection at the top of the column is very different:

Simpson uses a bolt-on method that can be bolted by hand. This allows the moment frame to be shipped flat and assembled at the job site.

Simpson also used "Yield Link" technology that will absorb the brunt of lateral movement caused during an earthquake. The damaged links can be replaced while the top beam stays in place. This prevents the expense of replacing the beams and columns.

Shipping and Assembly of SMF's are different.

MiTek uses a fixed top connection.

the moment frame is shipped fully assembled.

Cuts down on assembly time but makes the beam harder to ship, and harder to handle.

If the connection becomes damaged after an earthquake, the beams and columns need to be removed and replaced (a major expense).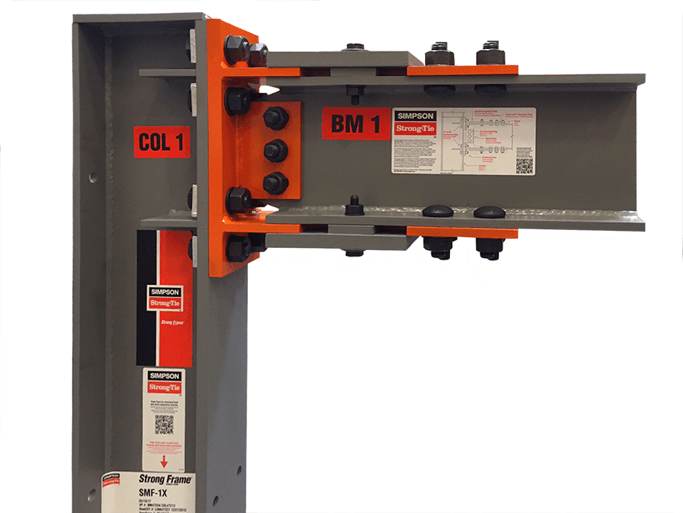 (Yield Link or "Structural Fuse" pictured above in Orange, image courtesy of Simpson Strong-Tie)
Recommendations:
The two special moment frames share many distinct value propositions. However, my recommendation on is for Engineering designers and property owner to utilize the Simpson strong frame special moment frame. The major factor in this recommendation is based on two factors: the Simpson SMF system allows for the continuous use of both the beam and moment frame, saving the property owner thousands in possible replacement costs. Simpson Strong-Tie's technical support is world class. Having a team of experts available to help with the retrofit design and field installation process is invaluable.
Want to Learn More?
If you want to learn everything there is to know about soft-story retrofits you'll want to check out our most in-depth article What is a Soft-Story Retrofit? Everything You Need to Know About Retrofits on our new website. There, you'll be able to access all of our retrofit blog articles, case studies, our retrofit gallery, short videos, and enjoy free access to our full-length soft-story webinars. Our team has developed all this content for property owners like you. It is your destination to learn all about the retrofit process. Bay Cities Construction and Soft-Story Retrofit Pros is here to help answer any questions you may have about your retrofit project. Our team has the experience to Engineer & Build a Cost-Effective Retrofit Solution for your property. Get started today by visiting our website at www.softstoryretrofitpros.com to schedule a free assessment.
---
About Us
For over 15 years Soft-Story Retrofit Pros has helped hundreds of homeowners with their projects. When you hireRetrofit Pros you don't just hire a contractor, you hire an entire team of Pros. With several years of experience, our team has the expertise to help you Design, Engineer, and Build Your Retrofit Solution. We also represent you City Representation when submitting your plans and ensuring they are approved, and we handle all the Permit Processing so you never miss a day of work. If you think Retrofit Pros is the right team for you, contact us today. We have the experience, knowledge, and know how to help you save time & money on your seismic retrofit.
Ready to take the next step? We're certain that Soft-Story Retrofit Pros is the best general contractor for your project, you can Schedule an Appointment by clicking HERE. We offer a complimentary One-hour consultation & assessment, so you can meet our team and we can discuss your Soft Story Retrofit project. If you have been disappointed by other contractors, it's time to call one of the best seismic retrofitters in Los Angeles.