Ordinance No. 7345 passes First & Second Reading.
California is the land of many faults, earthquake faults that is. That's why so many cities in Southern California have recently passed local ordinances to require the seismic retrofit of vulnerable "soft story" apartment buildings. We now have another city that has navigated the gauntlet of public scrutiny and passed a mandatory earthquake retrofit ordinance, the city council of Pasadena officially adopted Ordinance 7345 on May 20, 2019. The ordinance is set to go into effect on June 24, 2019. Pasadena joins the city of Los Angeles, Santa Monica, and West Hollywood in passing a seismic retrofit ordinance. These types of laws stir up controversy and become political grenades, despite the fact that protecting structures to save lives is a good thing.
Pasadena Ordinance 7345
In 2018 the city of Pasadena consulted with Degenkolb Engineers and the Structural Engineers Association of Southern California to develop the technical portions of the retrofit ordinance. The main purpose of the ordinance is to safeguard the public from the dangers associated with "soft-story" buildings during an earthquake, which were made evident by the Northridge Earthquake in 1994. The Northridge Earthquake caused the collapse of several apartment buildings that were built in the 1960's. The city estimates that there are 493 vulnerable buildings in Pasadena that will require some type of seismic retrofit. You can read part of the Pasadena Ordinance below.



"The provisions of this Chapter are intended to promote the public welfare and safety by reducing the risk of death or injury that may result from the effects of earthquakes on existing wood-framed multi-story buildings with Soft, Weak or Open-Front Walls. Generally, this type of structure consists of partial tuck-under parking on the first floor level with living space in the floors above. In past earthquakes many of these types of structures have performed poorly and collapsed causing loss of life, personal injury, and substantial property damage. This Chapter creates minimum standards intended to reduce the risk of collapse and improve the performance of these buildings during earthquakes, but not necessarily prevent, the loss of life, injury and damage to property."



The retrofit ordinance goes into effect on June 24, 2019 - if you own an apartment building in Pasadena our team can help keep your tenants and your investment safe in the event of an earthquake.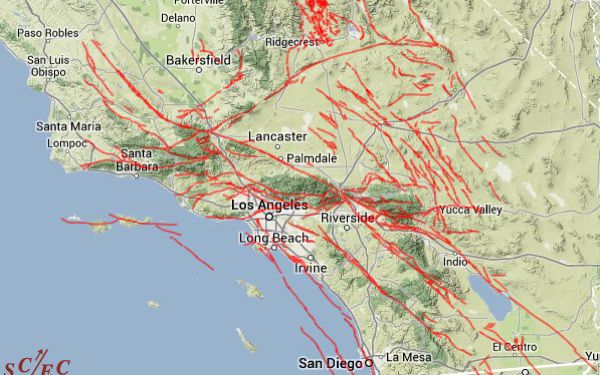 Known faults across Southern California.
I decided to attend the Pasadena city council meeting a few days ago to witness firsthand the public process of adopting such an ordinance. I was impressed by the level of professionalism and decorum exhibited by the council and city officials. The entire meeting lasted about 4 hours as they covered several other topics. I did take the opportunity to voice my concerns about the shortcomings of how the seismic ordinance was executed in Santa Monica and Los Angeles. I filled out a comment request card and was called out to speak during the public comments portion of the meeting. Each speaker is given up to 5 minutes to comment and voice their thoughts and concerns. It was fortuitous that I got to chime in, but I was fascinated to listen to what other residents and stakeholders thought about the proposed ordinance.
Watch Alexander Rodriguez of Soft Story Retrofit Pros | Pasadena Passes Seismic Retrofit Ordinance
Other than my own comments in support of such a measure, all other public comments about the seismic retrofit ordinance were in opposition. One after another, each resident detailed why the ordinance should not be passed. I could not help but reflect on Dr. Lucy Jones's book, "The Big Ones." She talks about the dynamic of 'communal amnesia.' How can we forget the damage, destruction, and loss of life due to the Northridge Earthquake? The earthquake only lasted 12 seconds and it produced $40 Billion in damage, death and caused the displacement of hundreds of Angelinos. It has taken 20 years for our government to develop the political capital to commence the process of making California cities more resilient. The law is not perfect however Pasadena will be better off because of it. I can only hope that Pasadena will not commit the same mistakes that Los Angeles and Santa Monica have made. Next week my team and I will be attending the public hearing in The City of Glendale as they also commence the path of seismic strengthening.
Got any questions?
For those of you that don't know, I am writing a book on soft story retrofitting. Please sign up for our email newsletter and blog article notification. You will have the opportunity to download it for free and maybe even get a signed copy. The mission of this website is to educated people about soft story retrofitting and the importance of a resilient community. Help us spread the good word by sharing our message. Your comments are a major part of how knowledge is spread, don't be shy to comment below!