(Collapsed Buildings after the Northridge Earthquake)
If you look around a typical Los Angeles neighborhood, there's no doubt you will find a soft-story building. Soft-Story buildings are easy to identify because they feature tuck under parking (this is parking that is below raised parts of the structure), a popular design for apartment buildings. This type of apartment building design is prone to structural failure and collapse during earthquakes if not built to modern building code.
The Los Angeles Department of Building Safety recently identified 13,500 apartments that will require some type of seismic retrofit as part of the LADBS Soft-Story Retrofit Program. The mandatory program was authorized after the passing of Ordinance 183893 and 184081 in 2015, creating one of the toughest seismic codes in the nation.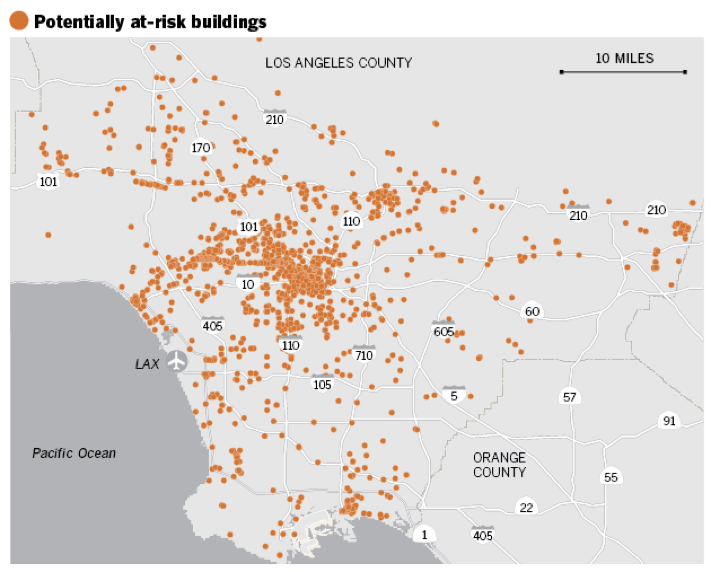 (image courtesy of Los Angeles Times)
Soft-Story Apartments
Most people have no idea what a soft story building is or what it looks like, but they are easily identifiable. A soft story building is any multi-story building in which one or more floors have windows, wide doors, large unobstructed commercial spaces, or other openings in places where a shear wall would normally be required for stability as a matter of earthquake engineering. A typical soft story building is an apartment building of three or more stories located over a ground level that has large openings, like tuck-in parking garages, or any other large openings.

(image courtesy of Los Angeles Times)
Soft story apartment buildings became popular after Los Angeles experienced a population boom, shortly after World War II. The design was easy and relatively cheap to build. A high concentration of soft-story apartment buildings can be found in the San Fernando Valley, in Hollywood, and heading towards the beach in West Los Angeles.
The soft story building design is vulnerable to collapse during violent earthquakes. Several apartment buildings of this type collapsed during the 1989 Loma Prieta earthquake and the 1994 Northridge earthquake. These apartment buildings have a flimsy first-floor parking that cannot support the entire structure during an earthquake.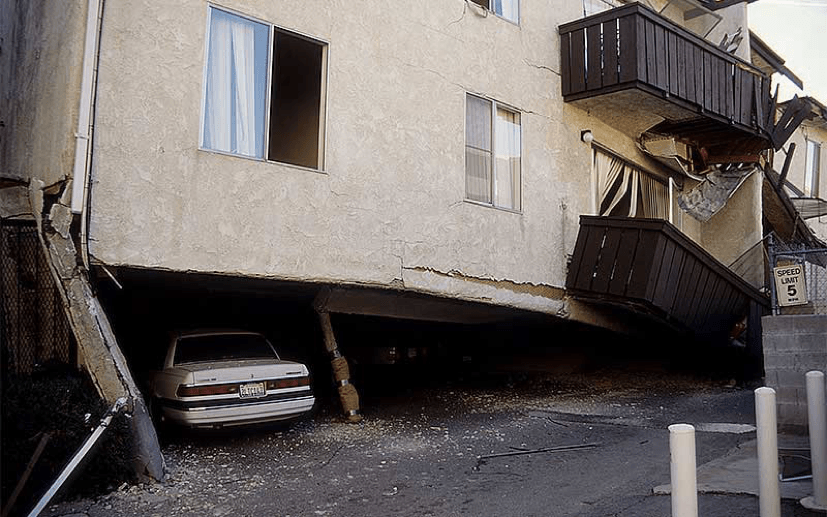 (image courtesy of Los Angeles Times)
Why Do They Collapse?
The soft-story design was easy to build in the 1960s but they do not comply with newer more stringent seismic code. The first story is too weak to support the entire structure during an earthquake. The soft-story apartment buildings with carports under them are more susceptible to collapse in an earthquake because the heavier upper floors are resting on a weaker ground floor. The wood and cement columns cannot support the entire buildings during violent shaking. During an earthquake cracks can form on the beams; poorly reinforced columns lose cement and then collapse under disproportionate lateral stress. Any soft-story apartment building in Los Angeles, West Los Angeles, and the San Fernando Valley that were built prior to 1980 are considered at risk of collapse during an earthquake. The risk is even higher for soft-story buildings built along fault lines, like the new earthquake faults identified in West Los Angeles.
Soft Story Retrofit
Property owners of soft-story buildings have already received a notice in the mail from the city of Los Angeles Department of Building Safety. Owners will have two years from 2015 to either submit proof that the building doesn't need retrofitting or must provide plans for seismic retrofit. All plans for retrofit must be approved by the city prior to construction. Each city enacted their own requirements, so be sure to check with your local municipality to ensure your seismic retrofit plans comply with new seismic code. As seen in the image above, columns can be reinforced, or they can be replaced altogether. This will vary depending on the size and design of your soft story building.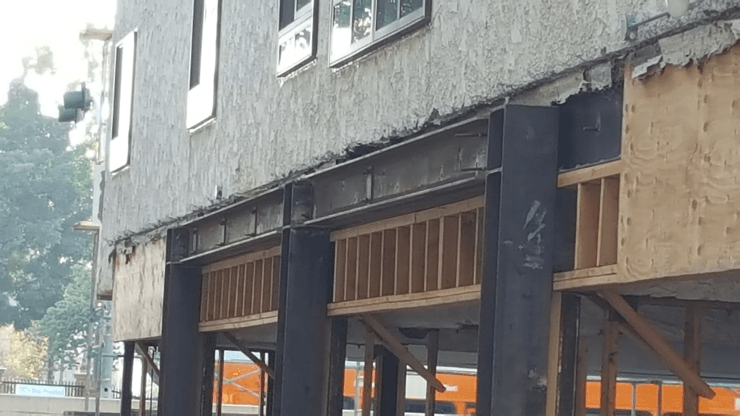 (steel beam installation on the first floor)
Soft-Story Retrofit Pros can help you with your soft-story retrofit. We are a California Licensed Contractor and our team of engineers and designers are ready to work for you. We are committed to making the soft story retrofit process as quick and painless as possible. If time is of the essence and you want to complete the soft story retrofit quickly, we can help.
Don't wait for the Big One to damage your building. You can get the soft story retrofit process started today. Deadlines for the Los Angeles Soft Story Retrofit are quickly approaching, don't get fined for complying. Typical construction companies will refer you to an architect to get drawings, and that can take months. Our team will draft your preliminary set of drawings within 4 weeks. You will not find this expedited service anywhere else. Our team of engineers and designers will make sure your drawings are up to code so construction can begin as quickly as possible. Our team will also represent you with Building & Safety at the city of Los Angeles and the city of Santa Monica whenever necessary. Once the drawings are approved, we will provide you with a detailed written quote that covers all labor and materials for your soft-story retrofit construction.
Want to Learn More?
If you want to learn everything there is to know about soft-story retrofits you'll want to check out our most in-depth article What is a Soft-Story Retrofit? Everything You Need to Know About Retrofits on our new website. There, you'll be able to access all of our retrofit blog articles, case studies, our retrofit gallery, short videos, and enjoy free access to our full-length soft-story webinars. Our team has developed all this content for property owners like you. It is your destination to learn all about the retrofit process. Bay Cities Construction and Soft-Story Retrofit Pros is here to help answer any questions you may have about your retrofit project. Our team has the experience to Engineer & Build a Cost-Effective Retrofit Solution for your property. Get started today by visiting our website at www.softstoryretrofitpros.com to schedule a free assessment.
---
About Us
For over 15 years Soft-Story Retrofit Pros has helped hundreds of homeowners with their projects. When you hireRetrofit Pros you don't just hire a contractor, you hire an entire team of Pros. With several years of experience, our team has the expertise to help you Design, Engineer, and Build Your Retrofit Solution. We also represent you City Representation when submitting your plans and ensuring they are approved, and we handle all the Permit Processing so you never miss a day of work. If you think Retrofit Pros is the right team for you, contact us today. We have the experience, knowledge, and know how to help you save time & money on your seismic retrofit.
Ready to take the next step? We're certain that Soft-Story Retrofit Pros is the best general contractor for your project, you can Schedule an Appointment by clicking HERE. We offer a complimentary One-hour consultation & assessment, so you can meet our team and we can discuss your Soft Story Retrofit project. If you have been disappointed by other contractors, it's time to call one of the best seismic retrofitters in Los Angeles.
---