Will the LA Retrofit Program have unintended consequences?
As we enter the fourth year of the Los Angeles soft-story retrofit program, some of the most prominent Structural Engineers (SE & PE) are asking themselves "What the heck is going on?". There has been a recent trend amongst engineers that are working on soft-story retrofits by using Cantilevered Column Systems (CCS) on apartment buildings of all sizes, often misusing them. Many retrofit contractors promise owners thousands in savings by using Cantilevered Columns instead of a Moment Frame system
Rampant Misuse of CCS
The cantilever column was developed to be a "stop-gap measure", intended for it to be used only in soft-story buildings that have irregular, narrow, and hard to retrofit areas. But they have now become the primary retrofit solution for hundreds of buildings in the last 12 months. Of all the engineering plans I have seen in the last year, over 95% of them use a cantilevered column solution. But many of these plans fail to consider the deteriorated state of existing wood-frame members. Not all apartment buildings that require a seismic retrofit are maintained properly; when I perform a Retrofit Assessment, I often find termite damage, water damage, and dry rot. Many of these properties are under rent control, and sometimes owners feel no motive to perform thorough maintenance on their building. With all that said, the fact of the matter is that some of these designs may exhibit a critical flaw that might, in turn, cause a tremendous amount of avoidable damage to the existing wood-frame structure. I don't want to create a panic, but we all need to know what type of plans are being submitted to the Department of Building and Safety (LADBS). My goal is to spread awareness about the misuse of a viable retrofit method (cantilever columns) and how some buildings with these systems might sustain damage during a major earthquake. I am voicing my concerns over a system that I have seen implemented incorrectly, I am not bashing retrofit contractors or structural engineers that work on these systems. Unsure of what a Cantilever Column System looks like? Check out this sketch below.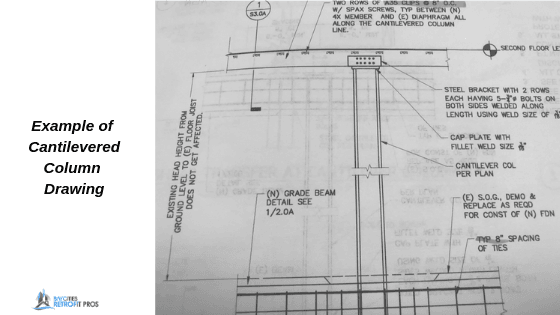 Engineering detail of a cantilevered column.
Los Angeles Soft-Story Retrofit Program
The soft-story retrofit industry is fairly new, San Francisco passed their mandatory soft-story retrofit program in 2013, and Los Angeles followed suit in 2015 by passing ordinance 183893 and 184081. But it is still new enough that some mistakes are bound to be made. The soft-story retrofit market has been flooded by a tremendous amount of new design & build companies. Have you been approached by them? There are so many new contractor companies being formed, they are literally coming out of the woodwork. These "design-build" firms have taken the majority of the seismic retrofit engineering work away from well-established engineering firms. Traditional engineers have a operate on a mindset that can be described as "make the building perform better". But these new players promise value-engineering that can be described as "make the construction cheaper" to entice property owners. This value-engineering mindset can be described as "make construction cheaper, and it sends engineers down a path of 'how to do less?' As a result, many property owners have been pitched the Cantilever column as a primary engineering solution under the pretense that it has a lower construction cost when compared to a traditional solution like a Special Moment Frame. Steel is strong, and these cantilevered columns can withstand strong seismic forces, but nothing is being done to reinforce the existing wood-frame structure. Unfortunately, the business practices of a few retrofit contractors and engineers have led property owners down the wrong path.
Where are the Experts?
SEAOSC is the Structural Engineers Association of Southern California, but very few people outside of the industry know who they are. Not many SEAOSC member engineers (the real subject matter experts) are participating in the residential soft story engineering market because engineering prices have plummeted to unprofitable levels. These well-established engineers work on large seismic retrofit projects that require technical expertise, they've worked on retrofitting buildings like Los Angeles City Hall. The irony is that SEAOSC members are seismic experts in both wood-frame and steel-frame construction, but not many people are approaching them for soft-story retrofit work. Their expertise and contributions have helped municipalities develop soft story retrofitting criteria. These experienced engineers should be the only ones developing retrofit plans because they are the true retrofit experts. Unfortunately, not many people property owners are seeking the help of these experts and are instead seeking the help of individuals that can develop their retrofit plans for $3,500. These engineers are desperately needed in the execution of the ordinance. They must be the ones who hold the line and prevent any unintended consequences that might arise from this well-intentioned ordinance.
SCCS & OCCS Uses
Who Will Be Impacted?
When the City of Los Angeles and the City, Santa Monica, and West Hollywood passed their respective soft-story retrofit ordinances, the intention was to make the structures safer by preventing building collapses, using a life-safety standard. An additional benefit would have been to improve the City's resilience (getting back to normal) after a major seismic event. There are an estimated 150,000+ housing in soft story structures in the City of Angeles [1]. If these buildings are damaged and or red-tagged by a major earthquake, thousands of low-cost housing apartments would be immediately off the market. Those tenants would have no place to live, and the property owners would be left unable to collect rent. I believe that the market forces that reduced the price of construction have also derailed the noble intentions of the soft story ordinances. It is really important that Los Angeles and neighboring cities get this effort right. In the event of a major earthquake, everyone will be impacted, but nobody will have it as hard as residents living in a soft-story building that has not been retrofitted properly.
21-inch steel bucket connection
The second issue I have noticed deals with steel-to-wood connections; cantilever columns have a small connection (surface area) to the existing wood members of the building. This narrow connection footprint creates the possibility of tremendous stress to develop overs in a small area. Very few cantilever designs in buildings with dragline span larger than 20' have sufficient transfer area at the perpendicular. You don't have to be an engineer to realize that the kinetic energy of a 150,000+ lbs experiencing seismic movement will not transfer into the cantilever column's 18"-20" post cap. Because many carports have side walls, no requirement is triggered for perpendicular retrofit or reinforcement. This becomes a problem in draglines with spans larger than 30' because the building will experience first-story rotation, causing perpendicular pressure on the dragline wood beam. The wood beam and its installation were never designed to deal with such a scenario. With the exception of Special Moment Frames, steel I-beams require bracing. Knowing this dynamic, why would anyone allow a cantilever column to be installed on a wood-frame dragline beam with minimal transfer surface area and exposure to perpendicular force?
Water damaged subfloor
In the hundreds of buildings that I have inspected, existing floor joist are deteriorated by exposure to moisture due to toilet and bathtub seal leaks (the subfloor is in no better condition). The existing wood framing systems will also need to be strengthened as part of the retrofit. The goal is to expand the footprint of the transfer connection points in order to improve the likelihood that the Cantilever Column will perform as intended. Failure to do this will cause the existing, brittle wood members to be crushed as they are thrust into the newly installed heavy steel members. We have to refocus our efforts on creating a durable and resilient retrofit.
"But the City Approved It"
When I tell property owners that the retrofit solution they asked me to bid on is not strong enough they always reply with "But the city approved it". It is foolish to think that contractors and engineers involved in these flawed designs will be sheltered from any liability because the design complies with the city ordinance. The same owners who are pushing for cheaper construction cost will immediately turn on their contractor and engineer once they realize that there is a flaw in their retrofit and lawsuits will ensue. We must proceed with caution and asses each building on its own attributes. Contractors providing free estimates and engineers providing free assessment may actually be a detriment to prospective clients. When we are paid for our time, we can dedicate time to properly look at the macro and micro issues affecting our Clients' buildings. Perhaps it is time we reframe how we as professionals approach these types of projects.
As a licensed contractor for 15 years, I have committed to the improvement of my calling and life's work. I am both excited and cautious as an active stakeholder in making Los Angeles a safer city. What do you think? Do you agree with my Cantilever column thesis?